Performance
"Bergeron Open Test"
AMRAP in 20 minutes
50 Wall Ball Shots (20/14 lb)
50 Double Unders
40 Box Jumps
40 Toes-to-Bars
30 Chest-to-Bar Pull-Ups
30 Burpees
20 Power Cleans (145/100 lb)
20 Jerks (145/100 lb)
10 Power Snatches (145/100 lb)
10 Muscle-Ups
Fitness
AMRAP in 20 minutes
50 Wall Ball Shots
50 Single Unders
40 Box Jumps
40 Knee raises
30 Pull-Ups
30 Burpees
20 Power Cleans 95/65
20 Jerks 95/65
10 Power Snatches 95/65
10 Dips
The credit for this awesome workout goes to Ben Bergeron of CrossFit New England who created this workout as a way to test his athletes to make sure they were ready for the CrossFit Open. The movements that you will encounter in this WOD are the movements most likely to show up during the Open.
Now for those who don't know who Ben Bergeron is, he is the owner of CrossFit New England and has a reputation for sending athletes not only to the Games but also to the podium. These athletes include: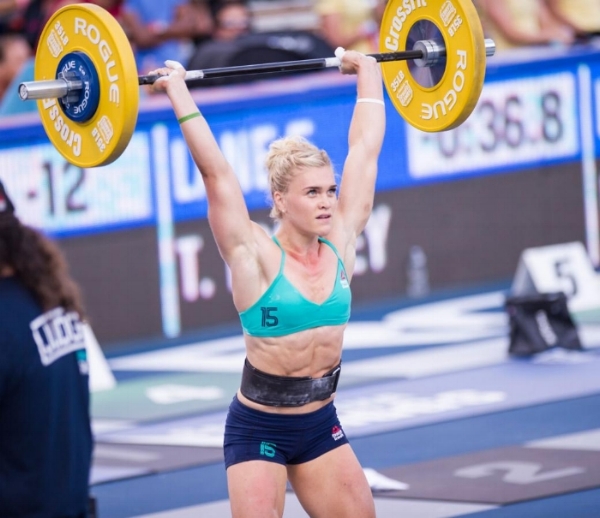 A native of Reykjavik, Iceland, Katrin has been to the CrossFit games four times and has taken the podium two times, being awarded the title of Fittest Women on Earth in 2015 and 2016.
Brook is a two time CrossFit games athlete who made her first appearance at the Games in 2015 at 19 years old. She took sixth place at the 2016 CrossFit Games.
Just four months into CrossFit, Cole took 13th place at the 2013 Northwest Regional. He took 7th place at the 2015 Games and 5th in 2016. He currently trains full time in Spokane, Wa
Currently titled the Fittest Man on Earth, Matt took his first number one podium finish in 2016 after multiple second place finishes in the previous years. Matt is a former U.S. Olympic Weightlifting team hopeful who currently trains in Cookeville, TN
Ben is also a great motivational speaker and business mentor who owns and operates "Built by Bergeron" which is designed to help CrossFit affiliates grow and become stronger. He also runs a podcast called "Chasing Excellance" that in my opinion should be on everyone's playlist who wants to pursue entrepreneurship or become a better athlete.
Ben Bergeron is a huge influence to not only me but also the rest of the team at Destination CrossFit and is someone who we look up to on a daily basis for not only programming ideas but more importantly business mentorship and relationship building.
So I encourage you to check out these sites if you want to gain some serious knowledge about CrossFit, the CrossFit Games, leadership, living a healthy life or just business in general.
1. Built By Bergeron: Business seminars and Affiliate building
2. "Chasing Excellence": Podcast about business leadership, CrossFit and living a healthy lifestyle
3. Ben Bergeron: Bio, events, blog